If the entry reaches nbletter, it means it has to return to zero, and it's the turn of the next entry to be incremented. The main part is the last for loop. Moreover wordlist lengths will be stored only upon opening the file in wordlist frame.
| | |
| --- | --- |
| Uploader: | Tur |
| Date Added: | 23 August 2004 |
| File Size: | 35.4 Mb |
| Operating Systems: | Windows NT/2000/XP/2003/2003/7/8/10 MacOS 10/X |
| Downloads: | 79169 |
| Price: | Free* [*Free Regsitration Required] |
It's likely that one could obtain even more time savings by converting the left hand side to use pointers as well.
Recursive functions are often a good way to approach a programming task, but there is a tradeoff in terms of memory and time. It has been shown that computational hardware can be designed not to encounter this theoretical obstruction see reversible computingthough no such computers are known to have been constructed. In such a strategy, the attacker is generally not targeting a specific user.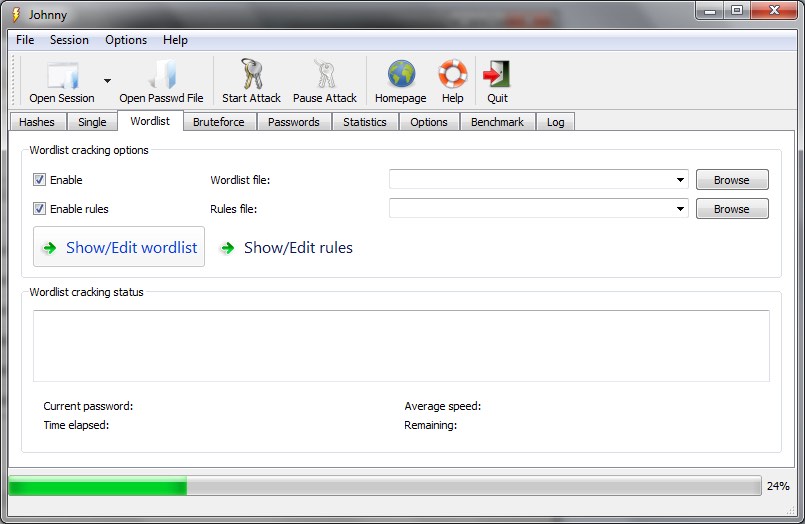 Instead I'm just going to show a x-force faster version and explain it. Sign up using Facebook. C-Force is as good as your wordlist, this means if your wordlist is outdated and has no working combo in it, then you can't get a hit with C-Force This is a simple brute force algorithm that I have programmed in C.
If the entry c-fore nbletter, it means it has to return to zero, and it's the turn of the next entry to be incremented. Fair point, but, you can move it outside the recursion at least, fotce call it just maxLen times, instead of gazillions!
This option is deactivated by default. I would say that this is pretty much impeccable as a recursive solution. Views Read Edit View history.
This is known as an exhaustive key search. For this function to work a snapshot has to be selected in the main site menu.
Brute-force attack
C-Force is build so that it detects the type of protection and it will perform a bruteforce test according to its analyse, at the moment C-Force recognises basic authorization and form logins without verification code for http sites. October 11, So the first iteration goes cc-force. To anwser you loop question, here is some code to loop over all the possible passwords of a given len, using the characters for a given set: Notes that you need to c-forcr Such an attack might be used when it is not possible to take advantage of other weaknesses in an encryption system if any exist that would make the task easier.
However, that doesn't necessarily yield better code.
performance - Brute Force Algorithm in C - Code Review Stack Exchange
Here are the results: Reset i back to third to last letter. Is there any better way to do this? The attacker systematically checks all possible passwords and passphrases until the correct one is found.
I also tested Edward's program on my machine, as well as a second program I wrote where I extended the algorithm to hardcode the last 3 c-forde instead of 2.
Cracking Tools For windows
Post Your Answer Discard By clicking "Post Your Answer", you acknowledge that you have read our updated terms of serviceprivacy policy and cookie policyand that your continued use of the website is subject to these policies. Grute articles with unsourced statements Articles with unsourced statements from December Articles with unsourced statements from September Wikipedia articles needing page number citations from March Articles with unsourced statements from November Articles with unsourced statements from August However, with length set to 5, bruteImpl is called Let1 is the last letter.
Another way to c-forec about the problem is forc counting in base On every iteration, the function uses write to output the buffer, and then increments the third to last letter.
Brute-force attacks are an c-froce of brute-force searchthe general problem-solving technique of enumerating all candidates and checking each one. The other problem is recursion that cannot be removed by compiler.
Sign up or log in Sign up using Google.